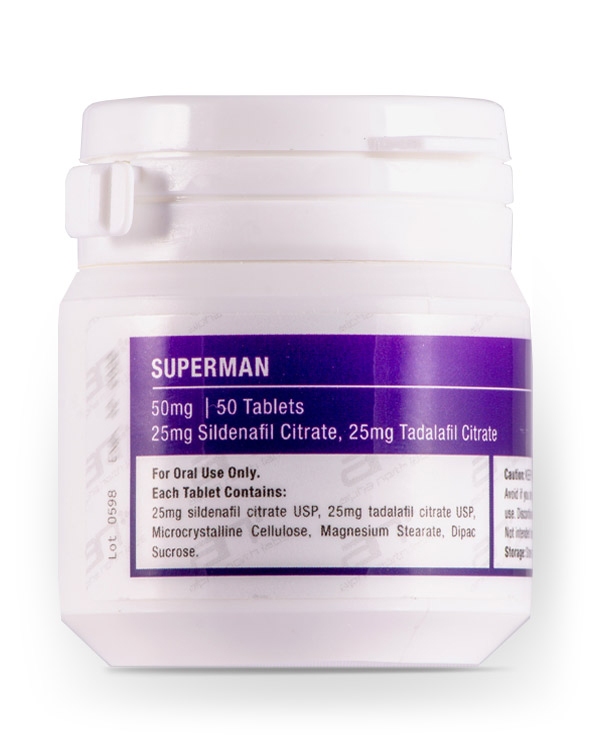 SUPERMAN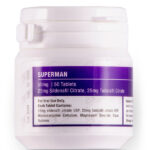 $70.00
Description
SIDE EFFECTS
DOSAGES
Description
25mg Viagra / 25mg Cialis- 50 Tabs Per Bottle
SUPERMAN BASIC INFORMATION
The combination of Cialis & Viagra in one tablet.
Cialis (Tadalafil ) is a safe and effective means to deal with erectile dysfunction. It is a PDE5 inhibitor that has been shown to be relatively safe and effective.
Viagra (Sildenafil citrate) is a drug used to treat erectile dysfunction (impotence) in males and pulmonary arterial hypertension (PAH). Viagra treats erectile dys function and works by relaxing muscles and increases blood flow to particular areas of the body (in this case, the penis, specifically). Its effects last up to four hours. Viagra is solely active in relaxing muscles and increasing blood flow to the heart, lungs and penis due to PDE-5, yet vasodilation is not increased in other parts of the body.
The most common side effects of Viagra are headache, facial flushing, and upset stomach. Rarely, blurred vision, or sensitivity to light may briefly occur.
Men: 25 – 50mg
Women: n/a